I've been living in Huntington Beach for over 25 years now. And last Sunday, I did something I've never done before - rented a bike at the beach.
This sort of spontaneous thing turned out to be a very nice time.
We went to Zack's Pier Plaza right next to the Huntington Beach Pier. They got all kinds of things you can rent. Like a beach cruiser and the quadricycle (car bikes). They also rent surf boards too.
For some reason, when we went, they had a special going on and we got the car bike for $20 an hour. I think it's usually $25/hour.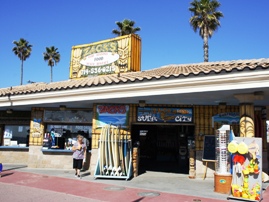 A one hour rental may seem short, but we rode all the way to the dog beach by the Bolsa Chica Wetlands, and actually had the time to come back to ride half way to Newport Beach.
It was a nice sunny day, and riding on one of these car bikes turned out to be a very pleasant cruise.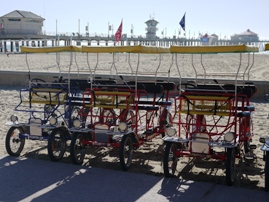 Riding on the car bike is also perfect for a date. You ride right next to your date, and get to talk while you cruise on down the pleasant rode. It's a lot of fun, and feels great as the ocean breeze hits you.
And if you have a family, you can rent a 4 seater car bike, and seat them in the rear. That should be a nice family fun since everybody gets to pedal.
Nice recommendation will be to bring a little picnic so that you can find a spot by the beach to enjoy a great lunch.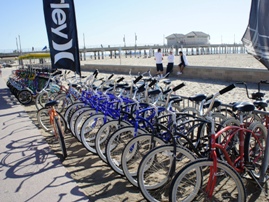 Since the car bikes tend to be a bit slower than regular bikes, if you feel like going the distance, it maybe wise to rent a beach cruiser and maybe ride down to Newport Beach or Balboa Island.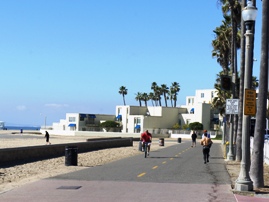 So next time the sun is out, and you feel like enjoying a beautiful day, go and rent a bike at Zack's Pier Plaza. You'll definitely have a lot of fun!
Zack Pier Plaza
405 Pacific Coast Hwy
Huntington Beach, CA 92648
(714) 536-0215