Ever since last year or so, the gourmet burger craze has been around in Los Angeles. Now, we can enjoy a gourmet burger here in
Orange County
as well. The 25 Degrees is a gourmet burger joint located in Hollywood, as well as downtown
Huntington Beach
.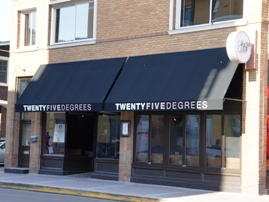 We were impressed when we walked into 25 Degrees with its very cool interior. We went after 1PM, so there wasn't much people around, and we got to enjoy the entire restaurant to ourselves. The Gothic design looked very trendy and cool.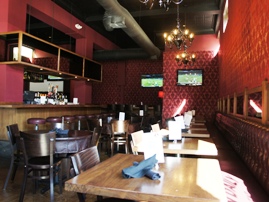 Here, you are able to customize your own burgers. But we weren't so decisive with what we wanted on our burgers that we decided to go with the #1 and #2 recommendations on the menu.
#1 consisted of onions, Gorgonzola cheese, bacon, arugula, and thousand island dressing. The burger was juicy, and it was really good.
#2 consisted of roasted tomatoes, prosciutto, and pesto sauce. The prosciutto was a huge chuck, and it felt like eating a gourmet double burger. It was a big delicious burger.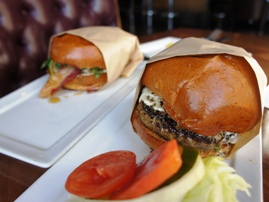 And of course, we can't forget the onion rings and the sweet potato fries here. Good stuff.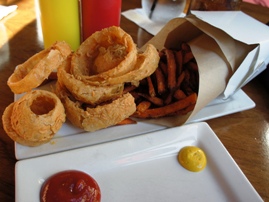 Now that you can enjoy a gourmet burger in Orange County, this place should be a must try on your list. Get a nice big burger and a nice cold beer on a Sunday afternoon. Should be a lot of fun.
25 Degrees (Twenty five degrees)
412 Walnut Ave
Huntington Beach, CA 92648
(714) 960-2525