My 60th post about
Things to Do in Orange County
!
Well, that's good news. Hope to keep blogging about the wonderful things in OC.
Lately, I've been posting more and more food related posts. I'm going to try and get away from that and try to post events and places to go. Hopefully... I just love to eat.
Anyway, today's post is about Joe's Italian Ice.
Comes at a great time since it's getting to be pretty hot these days in Orange County. I got no AC at my house, so that means going out somewhere to cool down during the day. I got to visit Joe's Italian Ice the other day.
My first impression: this is a cute little shop, right next to a pretty big street. It's not hard to miss, but maybe not the best first impression.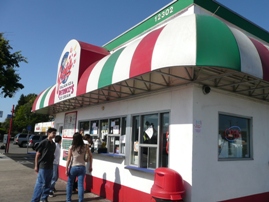 That was just my first impression. That impression will soon disappear as I start to order my ice cream.
This place has one of the best services that I've ever experienced at an ice cream/shaved ice joint. They gave us almost unlimited amounts of samples, and we didn't even ask for it. They just kept shoving us with all the different flavored Italian ice that they offer here. Yum.
After getting almost full from all the samples, we decided to get the Joe Latti and the dipped ice cream cone.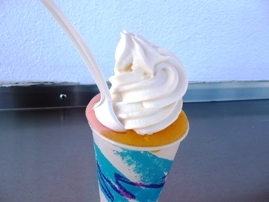 The Joe Latti is awesome. They give you a huge serving of their famous Italian ice, topped with some soft serve ice cream.
I tell you what, I've never had a better shaved ice anywhere in the world. (And I've had really good ones in Hawaii.) The texture is velvety smooth, and filled with a very sophisticated flavor. You can choose from over 40+ flavors. And on top of this awesome shaved ice, you get a swirl of their soft ice cream. Yum!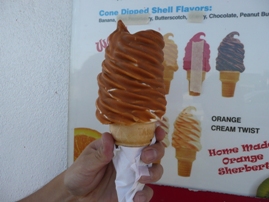 The dipped cone was good, but if you go here, I would recommend getting the Italian Ice instead of the soft serve ice cream. The soft serve had a very custard-y flavor, and they give you a ton of it. I got a medium, and at a regular place, it will be an extra large. I dripped away most of the ice cream since it was so big. Good stuff, but the Italian Ice was better.
So when you get to try their delicious treat, go with the Joe Latti or the Joe Smoothie. You'll get to indulge in both the Italian Ice and soft serve. You get your money's worth, and will come back for more soon.
12302 Harbor Blvd




Garden Grove

,

CA

92840




(714) 750-1076