If you're feeling like a good healthy meal today, well, there's one place that I recommend in
Orange County
. The Native Foods Cafe inside
The Camp
in Costa Mesa serves up one of the best vegetarian meals around. They got a real hip atmosphere, but the best part about the entire restaurant is that their service is top notch. I'm in no means a hip kind of person, but they treated me really well at Native Foods Cafe.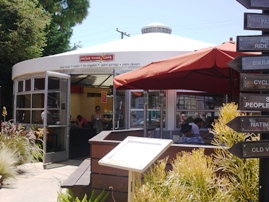 Obviously, since this place is known for their vegetarian food, they do not serve up any meat. But you'd be in for a surprise when you taste how juicy their burgers and sandwiches are. If they didn't tell me that this place was vegetarian, I would have definitely been fooled.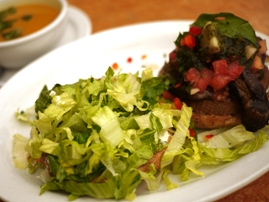 I got the Portobello and Sausage Burger pictured right above. Got to tell you, this was one of the best burgers I've had in a while. The Portobello mushroom was extremely juicy, and their sausage (?) was extremely satisfying. Just writing about it and seeing its picture makes me crave one. Maybe I go back again tomorrow and get one. :)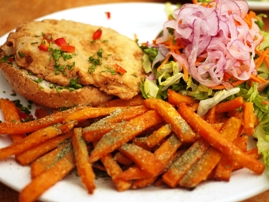 We also got the popular Chicken Sandwich as well. Of course, it's not real chicken. We were told that the chicken was made out of imitation chicken. I'm no expert in imitation chicken, but it tasted better than chicken.
For both meals, if you decide, you can add some fries or soup with it for an additional charge. But when we went, since the Chicken Sandwich was it's daily special, they added the awesome sweet potato fries for free. Good deal!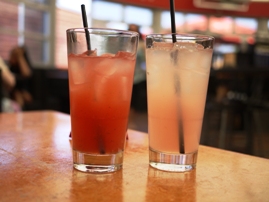 And another cool thing here at the Native Foods Cafe is their drinks. They have cool drinks. I tried out the Watermelon juice, lavender lemonade, and the plumeria ice tea. All were awesome. They let you get free refills, so you can go on and try out their variety of drinks that they offer.
Native Foods Cafe also has an awesome dessert section as well as other foods like salads and pizzas. Unfortunately, we didn't get to try it out when we visited them last time. Give me a reason to go back.
Even if you're not a vegetarian, you will most likely enjoy their food, and then some. I really loved it, and I hope to go back soon!
Native Foods Cafe
2937 Bristol St
Costa Mesa, CA 92626
(714) 751-2151
Mon - Fri: 11:00 am - 9:00 pm
Saturday: 11:00 am - 8:00 pm
Sunday: 11:00 am - 6:30 pm