Time always flies so fast, and though I always promise myself to post an article at least once a week, a month or two usually flies in between my
Things to Do in Orange County, CA
blog.
Well, this post is a really cool one.
Do you ever feel like riding on a hot air balloon? And what if I told you that the flight up is free? Hey, well in Orange County, this is possible to do.
At the Great Park in Irvine, you are able to ride on a hot air balloon Thursday through Sunday for FREE!!
Though this hot air balloon is free, there is also a catch. One is that it's popular, so if you go during the weekend, it can get difficult to secure a ticket. Two is that since it goes up to 400 feet, any kind of strong wind condition will stop the balloon from flying.
It actually took me three chances to finally get on the Great Balloon. First time it was the wind, second time it was packed, and third time was a charm. Your best bet is to call them before you go to see if they're flying, and if there is a lot of people waiting or not.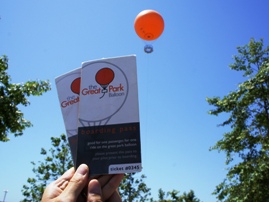 Upon arrival to the Great Balloon, you will enter the office to fill out a liability form. After you fill it out, you will get the ticket to the Great Balloon for free!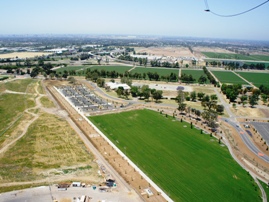 We went during the day on Thursday, and it was great. Perfect weather, and there were only 7 of us that flew on the balloon. So we got to walk around and talk to the other people on the balloon.
As I mentioned, this balloon goes up 400 feet, so it's pretty high. The view is wonderful from up there, so don't forget your camera. They also do a night flight, and the view up there at night must be very nice too.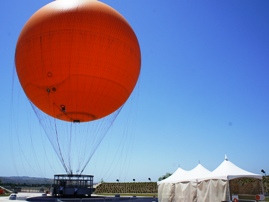 All in all, this balloon is an awesome deal. It takes you up 400 feet above Orange County, and all expenses are paid for. The ride is about 10 minutes long, but that should be enough for you to enjoy the ride, and appreciate the beauty of the OC.
The Great Park Balloon
Perimeter Rd
Irvine, CA 92614
(866) 829-3829
Thu-Fri 10 am - 3 pm
Thu-Sun 7 pm - 10 pm
Sat-Sun 9 am - 3 pm