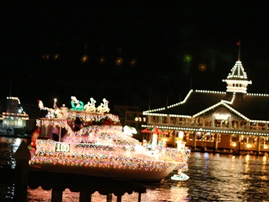 Every year in Orange County, the Newport Beach Christmas Boat Parade kicks off the Holiday season for us.  My favorite thing to do is to start off at the Balboa Peninsula, then move on towards to the Balboa Island to watch the Christmas Boat Parade.  
I usually arrive at the Balboa Peninsula a bit early to get parking at the pier.  Pier parking is free after 6PM.  As I arrive at the Balboa Peninsula, I first prepare myself before the parade by getting myself a nice, freshly fried corn dog at the Balboa Fun Zone.  Combine the corn dog with some freshly made lemonade, you are in heaven!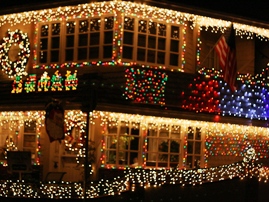 After my snack, I then board the ferry for a $1 to get over to the Balboa Island.  Once you get off, the houses around Balboa Island will have beautiful Christmas lights on it.  You can walk around the area to enjoy some of the best Christmas lights in OC.
As you enjoy the walk around the Balboa Island, the Christmas Boat Parade will start if you time it right.  I usually get to the Peninsula at around 5:30PM, cross over to the Balboa Island at around 6PM, then the parade will start around 6:30PM.  It's a very nice way to spend the evening since you get to enjoy three things in one night!
While the boat parade is progress, one of the coolest things you can do is to ride the ferry back to the Balboa Peninsula.  The ferry will actually start to join the parade, crisscrossing its way through the ongoing boat parade.  You'll have the best seat in the house, and also will make you feel like you're actually in the parade for a brief time.  It's a very nice moment for only $1 a person.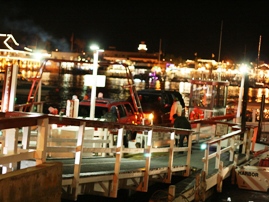 From the corn dog on the Fun Zone to the beautiful Christmas lights, hanging out at the Newport Beach Christmas Boat Parade is truly a spectacular holiday event in Orange County.  Be sure you don't miss out on it!
Newport Beach Christmas Boat Parade
12/17~12/21 in 2008