There is finally a Sonic Drive-In in Orange County. The Santa Ana one is a pretty convenient location since it is close to South Coast Plaza and Orange Coast College.
Anyway, visiting a Sonic Drive-In is pretty cool if it's your first time.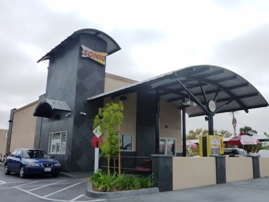 You drive-in to a little parking spot that is all yours, and order off of a "drive-thru-like" device. You can take all the time in the world since the order taker doesn't talk to you until you push the "ready to order" button. Of course, you can go to their website and check out their menu before you go, since what you see on the website is exactly what you'll see when you order.
Sonic Drive-In has a cool atmosphere since you order from your car, wait in your car for the food to arrive, and eat in your car. I guess we experience all this anyway at a normal drive thru, but the only difference is that you are parked and the engine is off. I guess that's what makes it feel different and a little special.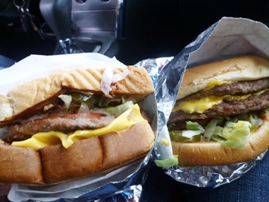 The food here is pretty good. Sort of a good fast food quality food. I would say it's comparable to a Wendy's or a Carl's Jr. We got the Super Sonic Cheeseburger and the Bacon Cheeseburger Toaster with a side of Chili Cheese Tots. Good stuff.
After we paid with a credit card, a cute girl in roller skates brought us our food in about 5 minutes.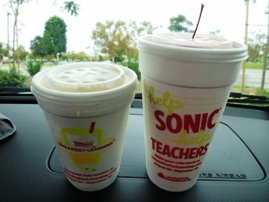 What really impressed me at Sonic Drive-In was their drinks. They have awesome drinks! We got the famous Cherry Limeade and the Coke Blended Float. I have to say, I was a bartender in the past, and I'm pretty picky about my drinks; but these drinks were awesome. Especially the blended float. I'm sure it's just a coke float blended, but it was perfectly smooth, easy to drink, and extremely tasty.
Now, I really want to go and check out their shakes and malts as well since those must be awesome too.
Anyway, this seems like a pretty cool date spot that won't cost you a fortune. They're open late too - 12AM. I also want to try going on a rainy day since I like to hang out inside my car on a rainy day. It must be good drinking a shake and eating a burger in the rain in your car.
Since Sonic is a pretty new thing in OC, it's definitely worth a try!
Sonic Drive-In
http://www.sonicdrivein.com