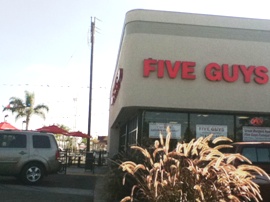 Heard of Five Guys Burger? Some people call it the In-N-Out of the East Coast.
Recently, the Five Guys Burger has been setting up shop in
Orange County
. And as a guy that loves reasonably priced, tasty burgers, this was a "must" to go check out.
The menu at Five Guys Burger consists mostly of Burgers and Hot Dogs. But since you're here, why go anything else then a burger?
The cool thing here: a regular burger comes with two patties of meat. So basically, you get a double cheeseburger for ordering a regular cheeseburger. If you're on a diet, go with the "little" burger which only has one beef patty. I think for anybody trying out Five Guys for the first time, they should go with a "Regular" burger.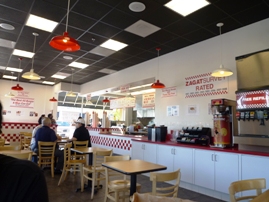 Prices for the burgers were: $4.49 for a Regular burger, and $3.49 for a Little burger. Check out their website or call the local store for the latest prices.
Another cool thing at a Five Guys Burger is that you can pick and choose from all the toppings available. And regardless of how much of it you order, they are all free. When you want all the toppings on your burger, just say, "All the Way."
Of course, I went "All the Way."
Here are the toppings available at Five Guys Burger:
Mayo, Relish, Onions, Lettuce, Pickles, Tomatoes, Grilled Onions, Grilled Mushrooms, Ketchup, Mustard, Jalapeno Peppers, Green Peppers, A-1 Sauce, BBQ Sauce, Hot Sauce.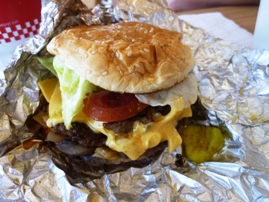 Compared to In-N-Out, you'll definitely be pretty satisfied in terms of amount of food that they serve you. It's a lot of meat and toppings on a burger, and overall it's bigger than an In-N-Out burger.
I enjoyed a Five Guys Burger a lot.
Hope you go out and try out a Five Guys Burger in
OC
to figure out which burger you like more.
Five Guys Burger
Huntington Beach, CA 92648
And a few more around Orange County...
(866) 345-4897