So, there's a new cool place to hang out in Orange County. It's called the OC Mart Mix. Located by the 405 freeway off of the Harbor exit. It's inside the huge furniture collection mall called the SOCO or South Coast Collection.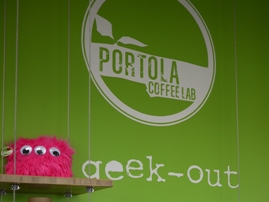 What I'm featuring today is the new hip coffee shop inside the OC Mart Mix. I'll be covering the entire OC Mart Mix at a later post pretty soon.
As explained a few times already, Portola Coffee Lab is a very cool coffee joint inside the OC Mart Mix. :) They are new and hip, and I say that because they have an awesome way of brewing their own coffee.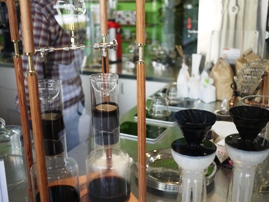 They use these cool siphon type of device to slowly brew their iced coffee each day. But keep in mind, there's only very limited supply, and the demand is high. So you'll be lucky to get a cup. When we went, they were still in the process of brewing it, so we weren't able to get a cup. They said, it takes 4 hours (?) or so to brew a batch.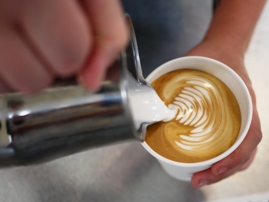 Instead, the guys at Portola Coffee was nice enough to show off their latte art skills and make us a cup of cappuccino. Great cup of coffee!
They did also have an iced mocha using a house made ganache, so the mocha was extremely rich and chocolaty. I don't think I've ever had a mocha so chocolaty.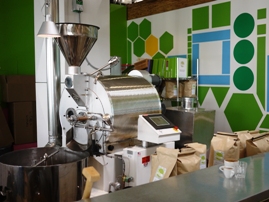 In addition to the awesome espresso drinks that they make, they also roast their own beans. So these guys are pretty serious about their coffee.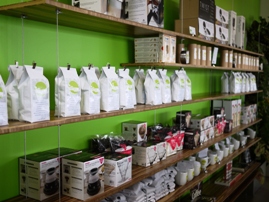 Overall, this place is pretty awesome.
So hope you can go check out the new hip hangout of OC Mart Mix, and have a cup of coffee at Portola Coffee Lab!
The OC Mart Mix
3313 Hyland Ave
Costa Mesa, CA 92626