Lately, there is a big craze with food trucks. As an OC Foodie, I had to go check one out. My only experience in the past has been with Kogi BBQ. I heard that there are even better ones here in
Orange County
.
So every Wednesday, in the middle of Irvine, where there's really nothing but office buildings, there is a place where food trucks gather...
They call it the Food Truck Round Up in Irvine, and you'll find anywhere from eight to twelve food trucks here.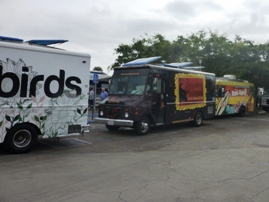 It's a pretty cool scene since I've never experienced anything like it before. You go there, and there is free parking. You walk around to figure out what to get. And order from the truck of your choice. It's a fun atmosphere since there are so many food trucks to choose from.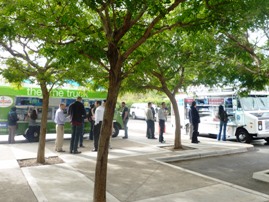 What makes the experience even more fun is that most of these food trucks serve fusion meals. Meals that you're not used to seeing. Like Kalbi Kimchee Quesadilla. Or the Carnitas Fries. And that's exactly what we got.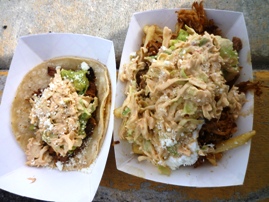 One of the most popular food trucks these days in OC is the Lime Truck. And after I ate their food, I knew why. It's really good. I mean really, really good. I regretted later that I didn't buy more. Pictured above are the Carnitas Fries and the Ultimate Taco. Awesome~~
There are other food trucks that we tried. The Asian Latin food truck. They had some good food here too.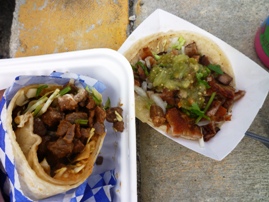 We wanted to go for desserts too - they had ice cream cookie sandwiches and cupcakes - but unfortunately too full to do so at that point. So maybe next time.
Or, maybe you can go out and check it out for us instead. Here's the address!
Food Truck Round Up
18678 Teller
Irvine, CA 92612
Corner of Michaelson and Teller
P.S. Be sure to bring a lot of cash because not all trucks accept credit cards.