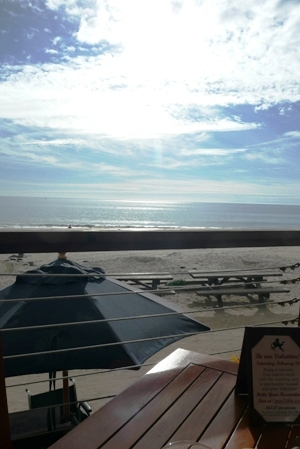 Last week I've enjoyed the Newport Beach Restaurant Week. I may have enjoyed it too much as I realized how much weight I've gained after one week of dining out. Off to hitting the gym this week.
Anyway, I wanted to post another highlight of mine during the Newport Beach Restaurant Week. After trying out many restaurants in Orange County, I don't think there's anywhere else that has a better location than The Beachcomber Cafe in Crystal Cove.
It was my first time visiting The Beachcomber, and was pleasantly surprised to see how close this restaurant is by the beautiful Crystal Cove Beach. Literally, the beach is in its front yard.
We dined a little late in the day - 2PM - and probably got the best seat in the house. Right on the front edge of the patio, where you are facing the ocean. Beautiful.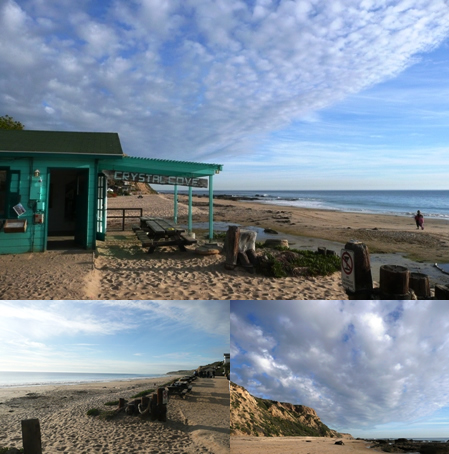 Since we did come for restaurant week, we decided to get the three course prix-fixe menu for $20. The food was very good. We got the onion soup and clam chowder for our first course. Both were made very well. 
Then for the main course, we got the tuna melt and the steak sandwich. The tuna melt had a very cute garnish on it, and the steak sandwich was huge. The steak sandwich was one of those All-American Meal with a huge sandwich with generous portions of steak, cole slaw, and fries. We've been trying to keep ourselves disciplined by not ordering any drinks during Restaurant Week since that adds to the total cost of the meal significantly, but here, we couldn't avoid the temptation of ordering a coke to go with our steak sandwich.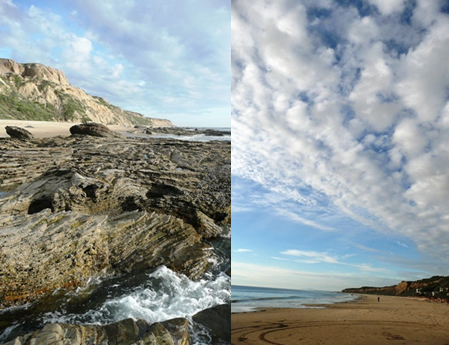 For desert, they served the banana boat. A huge portion of vanilla ice cream with bananas, whipped cream, and a tasty hazelnut sauce.
All this with a view that's probably one of the best in Orange County.
The Beachcomber is definitely recommended for all who'd like to enjoy the beautiful view of Crystal Cove in a nice cozy atmosphere. A great place for lunch, brunch, or romantic sunset dinner.
Phone: (949) 376-6900
Hours of Operation:
Breakfast: Monday - Sunday: 7:00am - 11:30am
Lunch: Monday - Sunday: 11:30am - 4:30pm
Dinner: Monday - Sunday: 4:30pm - 10:00pm