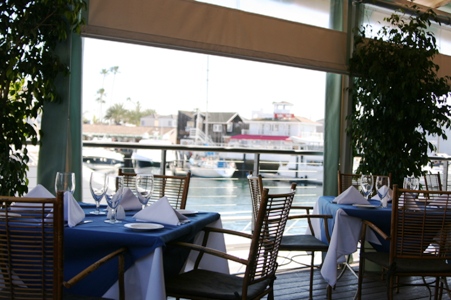 For the Newport Beach Restaurant Week, I was able to visit The Cannery for lunch, and 21 Oceanfront for dinner.  Here's a report on The Cannery.
First of all, when you eat out during the Newport Beach Restaurant Week, lunches are usually the better deal.  For only $15 or $20, you get as much food as a dinner course at most places.  The Cannery offered their 3-Course Prix-Fixe for $20.  Here were the choices:
First Course
New England Clam Chowder 

Panko Crusted Crab Cake

Avocado Relish, Mango-Ginger Cream Sauce

Organic Wedge Salad 

Iceberg Lettuce, Tomatoes, Lardons, Port Reyes Blue Cheese Dressing

Entrée
Cannery Seafood Salad 

Young Organic Greens, Crab, Lobster, Shrimp, Scallops, Citrus Vinaigrette

World Famous Pike Place Fish market Wild Salmon 

Chef's daily Creation

"Brendon's Filet" Tournedos 

Roasted Fingerling Potatoes, Mushrooms, Carrots, Asparagus, Veal Jus

Dessert
Chocolate Molten Cake

Valhrona Chocolate Sauce, Cream Chantilly

We decided to go with the Crab Cake & Clam Chowder for appetizer.  The Cannery is known for their seafood, and I got to tell you both dishes were delicious.  The clam chowder was packed with flavor, and it was very creamy.  And the crab cake was generously filled with crab and cooked perfectly.
With our expectations now up with the appetizer, we ordered the filet and the seafood salad for the entree.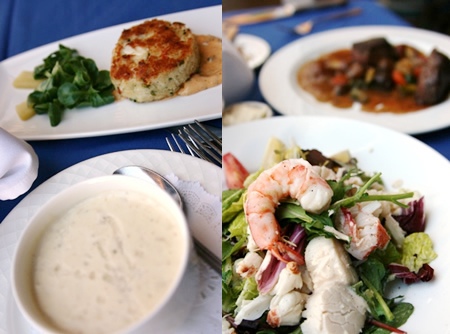 Awesome!  The filet was tender and packed with a lot of flavor.  The veal jus complimented the meat and the roasted vegetables perfectly.  Very well made.  And the seafood salad?  Well, just look at the picture above.  You see that The Cannery is not shy about giving you a lot of good food.  Very generous portions of seafood on the salad.  I was surprised to see that they can offer all this for only $20.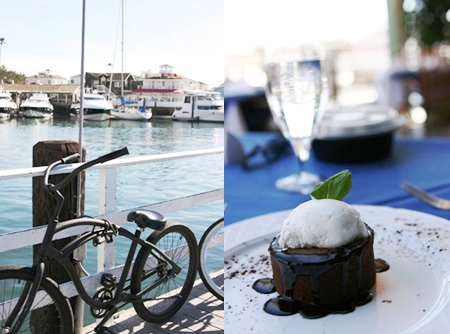 And after our entree was the Chocolate Molten Cake.  It was good, but we were pretty full by then, so we got one for take out, and ate one at The Cannery.  
The Cannery was a great first choice to kick off our Newport Beach Restaurant Week!  It is located in a very cozy location in Newport Beach where you can enjoy little walks after your meal.  For only $20, it is a must go restaurant in my opinion.
Enjoy!
Newport Beach Restaurant Week
http://newportbeachdining.com/restaurantweek/2009participating.asp